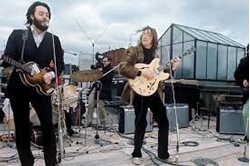 Full disclosure: I'm more of a Stones guy than a Beatles guy, and some early Beatles (Love Me Do, I Wanna Hold Your Hand, and the like) I can find incredibly irritating. Now, sometime around Revolver, I took a turn and most of their albums from then on I like quite a bit. Abbey Road, in particular, I consider to be a stone-cold masterpiece. Although I still think The White Album has way too much filler (Ob-La-Di, Rocky Raccoon, and so forth).
What I'm getting at here is that I didn't come to Peter Jackson's seven-plus hour, three-episode series for Disney on bended knee—quite the contrary. I came to Get Back not as a fanboy but as an interested critic.
So, with that preamble out of the way, let me just say, this is a fascinating piece of work. The first part of the initial episode gives the viewer a quick overview of "Beatlemania" before bringing us to what would be the Beatles' sessions for the recording of their last studio album, Let It Be in 1969 (Abbey Road was actually recorded after Let It Be, but released before).
Source: David Phillips/awardsdaily.com