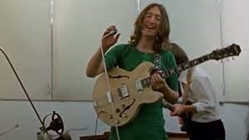 "The Beatles: Get Back" is a feat of modern cinema. Spanning nearly eight hours and chronicling the development of one of the greatest albums of all time, this film pushes fans to reconsider how and why The Beatles broke up.
The footage was pulled from director Michael Lindsay-Hogg's 1970 film, "Let It Be" and its unused recordings. Originally to be released as a TV special, "Let It Be" transformed into a documentary film capturing the development of the Beatles' twelfth studio album by the same name.
When Jackson began looking through the footage, he stated, "I was thinking, I'd love to make a Beatles film, but I don't want to make the Beatles-breakup film. That's the one Beatles movie I would never want to make." Jackson maintained this mindset throughout the film's creation.
Source: dukechronicle.com