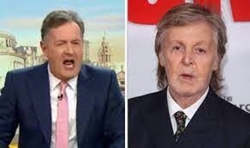 PIERS MORGAN recently opened up about a time he was confronted by Beatles star Paul McCartney and was faced with a tough decision.
Piers Morgan, 56, has spoken up about a moment in which he was scolded by Paul McCartney following a phone call. The broadcaster discussed the incident on The Brett Lee podcast recently.
He spoke about a moment in which he had a scary phone call with Paul McCartney after meeting him for a few drinks earlier in his career.
He said, on Tuesday 18 Jan: "I was walking to the pub in Canary Wharf. We had a story on page 7 (in The Sun) about Paul McCartney.
Source: Rohan Gupta/express.co.uk