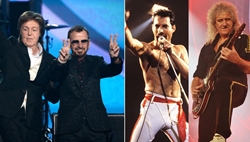 If we've learned anything over the past several years, it's that getting people to agree on anything is hard. Whether it's science, politics, religion, Laurel or Yanny or the geometry of the Earth, we are divided now more than ever.
As far as art and music go, we all agree that it's a matter of taste. But how do a person's musical tastes correlate to their political views? A new study called Tuning In To Politics by TickPick sought answers, and the results are fascinating — perhaps even encouraging!
A survey of over 1,000 Americans who identified themselves as either Democrats, Republicans or Independents found that one thing they agree on, no matter their politics, is classic rock! And two British classic rock bands stood atop the heap in terms of being universally revered: The Beatles and Queen.
Source: Andrew Magnotta/iheart.com