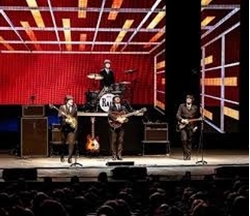 As the longest touring Beatles tribute band running, Rain has not only kept the music of the Fab Four alive since 1975, but it's also introduced countless people to the Beatles legacy and stirred up plenty of memories in fans of all ages.
The show doesn't just play the iconic music; the band dresses up like the Beatles and pays homage to the different eras in which they performed.
Comprised of Paul Curatolo (Paul McCartney), Steve Landes (John Lennon), Alastar McNeil (George Harrison) and Aaron Chiazza (Ringo Starr), the band acts as the legendary foursome with a note-for-note theatrical event, wearing spot-on costumes and utilizing multimedia content to bring the music of the Beatles to life.
"I like to call it the Beatles anthology in concert form," Curatolo said. "It's a walk through their entire story through their music, stories, interviews and most iconic moments. It's also a rock concert."
Source: Keith Loria / Special to the Fairfax County Times