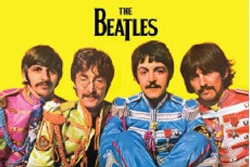 With the music world celebrating 50 years since the release of the Beatles' landmark album "Sgt. Pepper's Lonely Hearts Club Band," new details are emerging about the Canadian police officer who inspired the title.
The original Sgt. Pepper was a straitlaced, no-nonsense Ontario Provincial Police officer from Aurora named Sgt. Randall Pepper, who forged an unlikely friendship with the band while running their security detail during a 24-hour visit to Toronto in 1966. His identity had long been a mystery to the music world, fuelled in part by the OPP officer's badge Paul McCartney wore on the album cover.
Pepper's granddaughter, Cheryl Finn, says the whole matter had been a mystery to her as well, until her mother told her it was one of the family's "little claims to fame."
"My grandfather supposedly kept them out of some trouble and they wanted to recognize his good work and his kindness," Finn told CTV News Channel on Thursday. But, despite the honour, Finn says the real Sgt. Pepper was not a Beatles fan at all.
"He always thought they were kind of hooligans, and men in the Sixties should be clean-cut and clean-shaven," she said.
Music journalist Alan Cross says Pepper softened on the Beatles during their visit, and when it was over, "they parted as friends."
"For whatever reason he was charmed by the Beatles, and the Beatles were also charmed by him," Cross told CTV News Channel on Thursday.
By: Josh K. Elliott
Source: CTV News