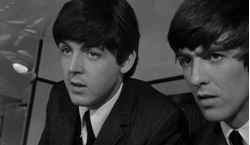 'Something', a song written by George Harrison and included as part of The Beatles' 1969 album Abbey Road, marked a historic moment for the band in becoming the first Harrison composition to be released as a Beatles A-side.
With Harrison taking lead vocals on the track, he would later admit that the song was written about the Hindu deity Krishna and, when speaking to Rolling Stone in 1976, explained: "All love is part of a universal love," when discussing his writing style. Detailing further, it emerged that Harrison had written the song about his wife, Pattie Boyd, and he once said: When you love a woman, it's the God in her that you see."
Harrison's love song is regarded by many as some of his finest work and, as the years have passed, countless major figures have attempted to put their own spin on it. The likes of Shirley Bassey, Joe Cocker, Peggy Lee, Bruce Springsteen, Elton John and Frank Sinatra have all added their versions of 'Something'.
Source: faroutmagazine.co.uk