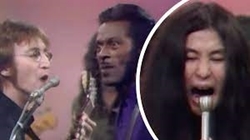 The soundman turned down poor Yoko Ono's microphone...
Before we get started it's worth underlining that no, Yoko Ono didn't "break up The Beatles", and that she was an accomplished and acclaimed artist in her own right before she even met John Lennon.
With all that acknowledged, it's also fair to say that her improvised contribution to John duetting with his musical hero Chuck Berry took a few people by surprise, especially Chuck himself.
As one of the pioneers of rock 'n' roll, The Beatles were all massive Chuck fans, and covered around 15 of his songs during their early years.
They repeatedly picked Berry's hits when they popped up on the radio, and you can hear the Fab Four's versions of "Too Much Monkey Business', 'Carol', 'Johnny B. Goode', 'Memphis, Tennessee', 'Roll Over Beethoven', 'Sweet Little Sixteen', 'Rock and Roll Music' and 'I Got to Find My Baby' on the official Live at the BBC compilation.
Source: Mayer Nissim/goldradiouk.com