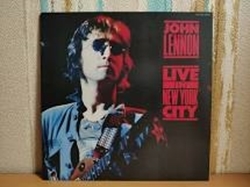 The sloppy, posthumous Live in New York City LP documents John Lennon's final full concerts — but rather than reflecting his musical genius, it reminds of wasted opportunities.
Despite its failure on a creative level, the music served a good cause. The album, released Feb. 10, 1986, samples the former Beatle's pair of Plastic Ono Band gigs at the August 1972 "One to One" festival. The Madison Square Garden event, which also featured Stevie Wonder and Roberta Flack, raised money for Staten Island's Willowbrook State School for children with intellectual disabilities — an institution whose horrifying conditions were revealed in a Geraldo Rivera expose earlier that year.
"[Rivera] came all the way to San Francisco to meet us," Yoko Ono later recalled. "He convinced us to do this. Without him, it wouldn't have happened."
Lennon and Ono had already played multiple benefit shows — like a 1969 UNICEF show in London — operating under the moniker Plastic Ono Band. They worked with a shifting crew of musicians — including Eric Clapton, bassist Klaus Voormann and future Yes drummer Alan White, all of whom appeared during their set at the Toronto Rock and Roll Revival, chronicled on the Live Peace in Toronto 1969 album.
Source: ultimateclassicrock.com