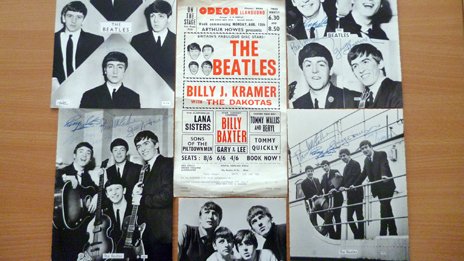 Autographs of all four Beatles, collected by a man who saw them play in north Wales 50 years ago, have sold at auction for almost £20,000. Autograph hunter Richie Astall, who lived in Llandudno, asked the "Fab Four" for their signatures at the gig in the town's Odeon Cinema in 1963.
He became a collector of autographs of the rich and famous while working at Llandudno Pier. His widow, Jean, 72, put the collection up for sale in Colwyn Bay. Mr Astall got John, Paul, George and Ringo to sign his autograph book when the band played in Llandudno.
He also kept a poster of the event and later tracked down signed photographs of the band. Mr Astall was in a wheelchair after contracting meningitis and German measles in childhood, which his widow says he used to his advantage.
Source: BBC News North West Wales
Photo Credit: Richie Astall