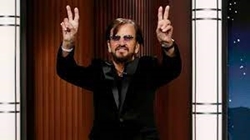 On Saturday, Ringo Starr was presented with an honorary doctorate by Boston's prestigious Berklee College of Music as part of the renowned school's 2022 commencement festivities.
The former Beatles drummer was not in attendance at the event, but accepted the honor virtually via a pre-recorded video.
"I send you all peace and love, everybody," Ringo began his speech. "I'm sorry I can't be with you today in person, but I do want to congratulate the Class of 2022, yeah! Well done, graduates. And I want to thank you for the honorary doctorate degree. I'm a doctor at last."
The 81-year-old Rock & Roll Hall of Famer continued, "I never went to college, but I certainly have had a lot of experience making music, so I suppose I earned this in my own way."
Source: digital.abcaudio.com