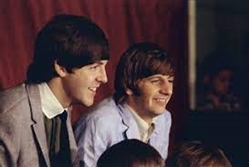 Paul McCartney and Ringo Starr are the only Beatles left on Earth. That's a scary thought. They're not getting any younger either. Ringo is 81, while Paul is 79. Paul and Ringo might not have had a relationship like Paul had with John Lennon and George Harrison, but they were best mates, being Beatles together. They had their ups and downs.
Now that Paul and Ringo are the only Beatles left, all the bad times have faded, and all the good times are frequently remembered. They are the only two people in the world who know what it feels like to be a Beatle. Since George died in 2001, they've gotten close and kept in touch.
Paul and Ringo have their own successful solo careers. Paul has been touring with the same band for almost 20 years, while Ringo tours with an ever-changing All-Star band. However hard it is to see each other in person, the pair always try to make time for one another.
Source: cheatsheet.com