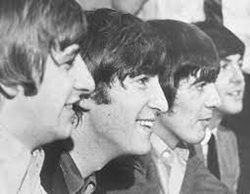 The members of The Beatles were more than just bandmates, their relationships with one another were more like that of brothers.
The band's drummer Ringo Starr recalled decades after John Lennon's death the surprise and emotion he felt at hearing the voice of his old friend speaking directly to him on a recording Starr hadn't been aware of.
Lennon wrote 'Grow Old With Me'
Recorded a month before Lennon was gunned down in front of his New York City home in 1980, "Grow Old With Me" was eventually released on a posthumous Lennon album called Milk and Honey.
The album also featured two songs that received abundant radio airplay: "Nobody Told Me" and "I'm Steppin' Out."
The song's opening lines are 'Grow old along with me / The best is yet to be,' quoted from poet Robert Browning's 1864 work "Rabbi ben Ezra."
Rolling Stone in a review of the album stated that Lennon's widow Yoko Ono's liner notes "consciously adopted the image of [the Lennons] as the reincarnation of Victorian poets Elizabeth Barrett Browning and Robert Browning for Milk and Honey."
Lennon's inspiration for the song, according to John Lennon
Source: cheatsheet.com