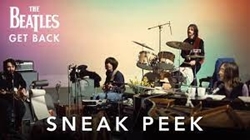 Last week Ringo Starr appeared on Jimmy Kimmel Live to discuss his brand new EP, Change The World. During the conversation, Kimmel brought up The Beatles' upcoming documentary Get Back, which is being directed by the mind behind the Lord of the Rings trilogy, Peter Jackson.
The Get Back docuseries is comprised of video footage taken in 1969 when The Beatles were recording their final album, Let It Be.
A version of the footage was released in the same year as the album, in 1970, however it focussed on some arguments had within the band, rather than them working together.
Source: Pravin Jadhav/samacharcentral.com