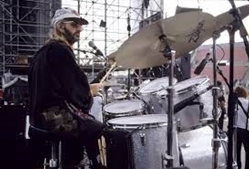 The surface-level view was that Ringo Starr had it made when he joined The Beatles. That might have been true, but things took a turn when the band broke up. He drank heavily as he tried to find his way artistically without the rest of the Fab Four and called himself a coward for one act in the 1970s. Soon after he embraced sobriety in 1988, Ringo faced his fears when he started playing music again with his first All-Starr Band.
When The Beatles broke up in 1970, Ringo released two solo albums the same year. He put out two more solo efforts by 1974, including the self-titled Ringo, which spawned several hits.
At the same time, he spent more time with friends such as the hard-partying Harry Nilsson, The Who drummer Keith Moon, and T. Rex frontman Marc Bolan. In the mid-1970s, Ringo lived with Nilsson and John Lennon in his former bandmate's rented house for a time, where he continued his hard-partying lifestyle. When he found sobriety in 1988, Ringo admitted people were right to call his post-Beatles life sad.
Source: Jason Rossi/cheatsheet.com