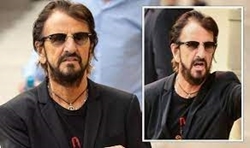 Celebrating his 80th birthday back in July 2020, many fans reflected on Ringo's life. In stark contrast to the life that he enjoys now, when the star was born in 1940 his family were suffering from poverty. Living in one of the poorest areas of Liverpool, Dingle, and a father who walked out on him and his mother, Ringo's start to life was hard. Unfortunately for both Ringo and his mother Elsie, Ringo's health rapidly deteriorated after he was rushed to hospital at the age of six with a ruptured appendix.
Other symptoms that individuals may experience includes feeling sick, constipation or diarrhoea, with pain getting worse if the individual coughs or walks.
Although medical professionals are still unsure what causes the condition, the appendix will need to be removed straight away. Today the surgery is normally carried out as keyhole surgery, unless the appendix has burst or is difficult to access.
Source: Lauren Russell/express.co.uk