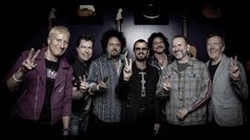 With Ringo Starr's announcement of a 2020 All Starr Band tour — which includes three Florida dates — the former Beatle is almost as busy as he was in the early 1970s.
Starr, 79, has tour dates on June 26 at St. Augustine Amphitheatre, June 27 at Hard Rock Live in Hollywood and June 28 at Eckerd Hall in Clearwater.
The tour opens May 29 in Ontario, Canada, and includes dates in New York, New Hampshire, Boston and Atlanta.
Presale tickets for the Florida dates and several others go on sale at 10 a.m. Wednesday through Ticketmaster.
Why should you consider seeing Starr in 2020? He's turning 80 on July 7. Even with a little help from his friends, the road can't go on forever. He's not Tony Bennett, after all.
Source: miamiherald.com