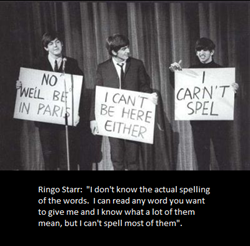 Days after he was officially honored with a knighthood in the United Kingdom, world-famous drummer Ringo Starr amused his fans by misspelling the name of the iconic band that brought him fame.
Ringo — whose real name is Richard Starkey — was posing a trivia question to his 1.81 million followers on Twitter, while also attaching a decades-old photo of his former Beatles band-mate, Paul McCartney.
The drummer wanted to know which of the Beatles' tracks was recorded in 1968 at Trident Studios.
However, instead of saying "Beatle," he wrote "beetle."
"1968 what beetle tracks where recorded at Trident studios let me know it's also a good picture of Paul he was There to. peace and love I am having a good day I hope you are too," the drummer wrote Thursday.
Source: Joe Setyon