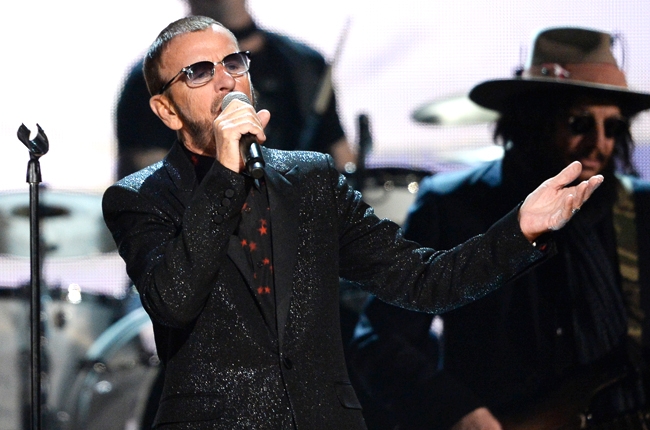 Ringo Starr has had a ball celebrating the 50th anniversary of the Beatles' arrival in America this year as well as some of his own honors. But, he says, it's put a bit of a crimp in plans for his next album.
Starr tells Billboard that he's "probably two-thirds through" with the follow-up to "Ringo 2012," which he plans to release in February. "Usually I make the record in January, February, March and mix it in April," he explains. "But because of all that Beatles stuff I sort of got behind because of the rehearsals and the fun and the joy. I was in L.A. until the first of April and I was trying to finish the record and just said, 'Ah, I've got too much to do.' " He has plans to work on it during July and August, when he's back in Los Angeles after the first leg of his latest All-Starr band tour wraps on July 19 at the Greek Theatre. Starr has been working on the set with Toto guitarist and current All-Starr Band member Steve Lukather, along with Peter Frampton, Richard Marx, Dave Stewart, Glen Ballard and Nashville songwriter Gary Nicholson. "It's all my pals, really. We just get together," Starr notes. And, he says with a laugh, the results are "sounding incredible. It's a mixed bag, as my records always ware. We have the reggae track and we have the rock track and that's how it is. It's pop, rock, reggae." Starr is also taking the production reins on his own this time after working with Bruce Sugar on "Ringo 2012" and 2010's "Y Not."
Listen to the Audio Version of this News Story

>Read more on this story....
Source: Billboard