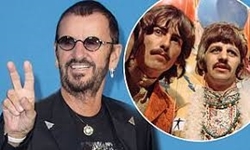 Ringo Starr has claimed that he 'didn't have the talent' to finish recording a song, so he would go to friend, and fellow Beatles member, George Harrison for help.
The iconic musician, 79, reflected on his struggle to complete tracks in an interview with Rolling Stone radio on Thursday, when he made the surprising admission.
Looking back on his debut album Sentimental Journey for its 50th anniversary, the Beatles drummer revealed: 'I used to always go to George to help me end the song.
Candid: Ringo Starr said on Thursday that he often asked fellow Beatles star George Harrison for advice when making music (pictured in 1967 with John Lennon and Paul McCartney)
'I didn't have the talent to end a song. With Back Off Boogaloo, I went to George and he helped me finish it.'
Source: Roxy Simons For Mailonline/readsector.com