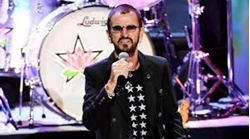 The Beatles released their eighth studio album, Sgt. Peppers Lonely Hearts Club Band, almost 53 years ago in May 1967. One thing many fans (and maybe even non-fans) think of when it comes to the album are the vibrant suits Paul McCartney, Ringo Starr, John Lennon, and George Harrison wore on the cover.
As it turns out, over five decades later, Ringo Starr's bright pink outfit still fits him. In a recent interview with Extra, the legendary musician showed off some pretty spectacular photographs from his decades-long career. When he got to a photo in his infamous suit he quipped, "the suit still fits!"
The Beatles drummer also spoke about a song near and dear to his heart, "Grow Old With Me" which was written by the late John Lennon. Starr recorded the song for his 20th studio album, What's My Name, released last October while the song was originally released posthumously in 1984.
Source: iheart.com