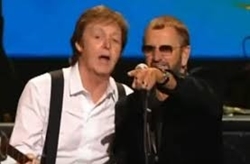 The official Twitter account for the Beatles tweeted out the following Ringo Starr quote. The quote actually comes from an old media interview that he gave. The quote expands on the reasoning for why The Beatles broke up and gives us a small glimpse into the making of that decision. Paul McCartney wife reveals 'miserable' Ringo Starr photo.
The quote stated:"(None) of the decisions were made quickly. We'd all expressed them & moaned about them, laughed about them & cried about them. Then it had got to a head where it was 'yes' or 'no' time – and we seemed to do that with the touring, with the recording & with the breaking-up."
In other news regarding The Beatles, fans took to social media to reflect on Ringo Starr's most recent studio release – 'What's My Name.' One reviewer wrote: "This latest offering by Ringo literally flew under my radar if it were not for a tip-off from an old pal that Ringo was covering Lennon's unreleased "Grow Old With Me" in collaborative fashion with McCartney's inclusion.
Source: Mike Mazzarone/alternativenation.net