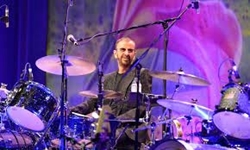 Legendary Beatles drummer Ringo Starr has teamed up with Masterclass to provide an online course on drumming and creative collaboration. The course will launch on November 22.
Ringo's involvement was announced during Masterclass' first-ever First Look event, where the online education subscription platform revealed their upcoming line of new courses, learning experiences, and initiatives to aid underserved communities.
The event took place at the Whitney Museum of American Art and also featured announcements of singing courses that will be offered by Christina Aguilera and Mariah Carey in 2022.
"MasterClass puts you in the room with the world's best, giving members unprecedented access to the greatest minds of our time," said David Rogier, founder and CEO of MasterClass. "Today's announcements will expand that opportunity with new classes, features, integrations and partnerships that will help deliver access to the platform to more people in more ways and in more places."
Source: Emma Wilkes/udiscovermusic.com