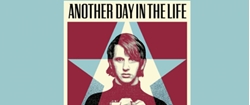 Sir Ringo Starr has today (June 6) announced the publication of a brand new book entitled, Another Day In The Life, which is due out via Genesis Publications this fall.
The third in Ringo's series of books, following the sell-out success of Postcards From The Boys (2003) and Photograph (2013), will present a previously unpublished collection of his photographs, captioned with his own thoughts and anecdotes, in addition to contributions from Paul McCartney, Joe Walsh and a host of other friends.
Fans can also expect the book to include quirky observational images and behind the scenes photos taken during events such as Ringo's acceptance of a Grammy Lifetime Achievement Award and his return to New York's Plaza Hotel, 50 years after The Beatles first visited the US.
Source: Juliette Jagger/celebrityaccess.com