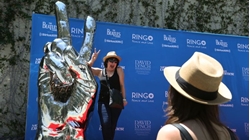 Sherry Lynn, of Studio City, poses with "Peace and Love" outside the Capitol Records tower in 2017. The work was initially rejected by a Beverly Hills panel for not meeting "Fine Art criteria." (Rick Loomis / Los Angeles Times)
When Ringo Starr decided to live full time in Beverly Hills, he planned to honor his adoptive hometown with an extravagant gift — an 800-pound polished steel monument of his hand making a peace sign.
The city politely declined.
"The commission thanks Mr. Starr for his generous offer but unfortunately the donation did not meet the Fine Art criteria," the city's now-disbanded Fine Art Commission wrote after it voted unanimously to reject the Beatle's gift in September 2017.
"They said, sorry Sir Ringo, thanks for your proposal, but you're not an artist, and the work is not art," said sculptor Jeremy Morrelli, who helped Starr produce the version of the statue intended for City Hall. "They produced a definition of art which is extraordinary. They would have rejected Van Gogh or Picasso on those grounds."
Source: Sonja Sharp/latimes.com