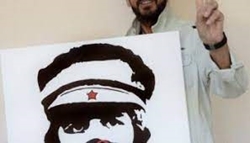 Ringo Starr's first NFT collection was sold Monday, June 13, at an online sale hosted by Julian's Auctions.
The "Ringo Starr NFT Collection — The Creative Mind of a Beatle" included a total of 20 NFTs based on five unique works of art created by the legendary Beatles drummer. All 20 NFT packages, each of which included an animated digital version of a Starr painting and a 25-by-25-inch canvas print of the same artwork signed by Ringo, were sold.
Winning bids spanned from $5,760 to $10,240, and the 20 packages sold for a cumulative total of $127,360. You can check out the full results at JuliensLive.com. As previously reported, most of the NFTs also incorporated a custom-made drum track played and recorded by Starr.
Source: ABC News/everettpost.com