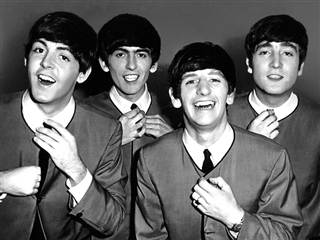 Admittedly, there are some questionable band names out there. Nickelback. Limp Bizkit. Kajagoogoo. But The Beatles? The legendary Fab Four who shook up the music world in the 1960s like no other group?
According to Rolling Stone's list of "The Thirteen Dumbest Band Names in Rock History," yes. The Beatles' name makes their bad-name list, published Monday.
"Before you start writing furious comments, stand back and think about this stupid band name." wrote Andy Greene. "The Beatles is a dumb pun. That's all. They took the idea of naming themselves after an insect like the Crickets, but changed the spelling for a pun on musical beats. It's a simple as that. There's no deep hidden meaning. There's no wisdom here. Just a pun that might have provoked a very mild chuckle back in 1962. We accept it because we've heard it 50,000 times and they're the best group in history, but that doesn't mean they don't have a stupid name."
Source: Today Entertainment
Photo Credit: Tom Hanley / Getty Images file