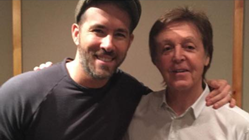 Hey guess what? Totally cool, handsome and talented movie star Ryan Reynolds is at is again. Would you add 'self-satisfied' to that list? Whoops, no time for that no - we've got a story to be getting on with.
Yes, the Canadian actor is - let's face it - the undisputed Heavyweight Champion of the World when it comes to Internet #bantz (move over, KSI).
As ever, nobody is out of bounds. Hell, if Ryan Reynolds met Queen Elizabeth II he could probably run around Buckingham Palace with his knob out and he wouldn't even get beaten up by the Queen's Guard.
Source: Tom Wood/ladbible.com