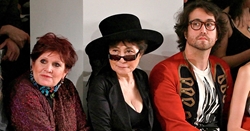 Musician Sean Lennon has released a song he co-wrote with late Star Wars actress Carrie Fisher. The track, titled Bird Song, was penned "years ago" by Fisher, Lennon – the son of John Lennon and Yoko Ono – explained in a note on Soundcloud.
He said he felt the need to record the unreleased song following Fisher's death from a heart attack in December, aged 60. "Carrie and I used to stay up 'til dawn chatting and pontificating about life. They were my best moments," Lennon, 41, wrote.
"Anyway, we wrote a song about staying up too late and hearing the birds sing... The lyrics she wrote with me I think are marvellous." Willow Smith, the 16-year-old daughter of Hollywood stars Will Smith and Jada Pinkett-Smith, contributed vocals to the unmixed recording.
"It's all so wrong to greet the dawn / The birds sing that awful song, saying 'You don't belong here!'" go Fisher's lyrics, over a tinkling piano and lilting harmonies that are more than a little Beatles-esque.
By: Rob Moran
Source: Sydney Morning Herald