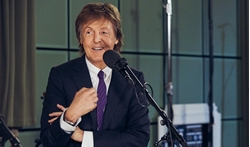 A pro-dairy and meat journalist has blasted ex-Beatle Sir Paul McCartney for saying that 'meat-free is the new rock and roll'.
Writing for Dairy Herd website, veteran writer Dan Murphy accused McCartney of 'waxing ridiculous on vegan food'.
He was responding to an interview published by The Daily Telegraph, in which the musician talked about his late wife Linda's impact on the veggie food scene. During the interview, vegetarian campaigner McCartney talked about eponymous food line launched by his wife Linda.
He said: "I remember going out to a dinner with my then father-in-law [Lee Eastman, Linda McCartney's father] at Claridge's. I said 'I'm vegetarian', and they looked puzzled.
"They brought me a plate of vegetables – just steamed veg. They couldn't think beyond that. We thought, hmm, we've got to try to do something to remedy this."
Source: Maria Chiorando/plantbasednews.org