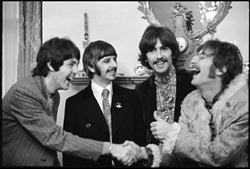 Sir Paul McCartney has given dozens of unseen photographs taken by his late wife Linda to the V&A's new photography centre.
The 63 pictures include images of The Beatles, Jimi Hendrix and The Rolling Stones, as well as personal portraits of the McCartney family on holiday.
Martin Barnes, senior curator of photographs at the South Kensington museum, said McCartney, who in 1968 was the first woman to have a photograph on Rolling Stone's cover, was "a talented eyewitness of pop culture". He said: "This exciting gift complements the museum's collections of photography. Our greatest thanks go to Sir Paul and his family for this generous gift."
The V&A Photography Centre, which opens on October 12, will more than double the space devoted to photography at the museum. At its heart is the Royal Photographic Society's renowned collection, which was controversially moved from Bradford's National Media Museum, its home for more than a decade. It includes work by pioneering 19th-century photographers as well as 20th-century masters such as Alfred Stieglitz and Edward Steichen.
Source: Robert Dex/standard.co.uk