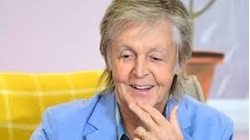 Sir Paul McCartney has said he sometimes picks up his grandchildren from school, and that it is a "joy".
The former Beatles star said that he is "pretty normal" when it comes to his relationship with his eight grandchildren despite his fame, and that they often go on holiday together.
Sir Paul, 77, told Chris Evans on his Virgin Radio Breakfast Show that he is a "terrific" grandparent, adding: "You know, I love them and I love being a granddad.
"And we spend quite a good bit of time together. We don't live near each other, but we go on holiday together, like Christmas. And in the summer we'll see each other. And then sometimes me and (my wife) Nancy pick them up from school. So that's nice."
He said: "It's great fun you know, because you don't know how to do it like parenting. It's ad lib, it's the biggest ad lib. So when grand-parenthood comes around, it's like, 'OK, what do we do here?' And so I say that joy is like picking them up at school and they love it."
He added: "I don't think it's just us, I think it's also the ice cream that's got something to do with it! So you do all those things, you know, and you can play with them and stuff.
Source: irishnews.com