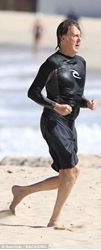 He returned to his favourite winter sun spot for his annual New Year's break just four months after Hurricane Irma ravaged the luxury destination.
But Sir Paul McCartney, 75, made island life look idyllic again on Thursday, when he was seen enjoying quality time with family on the beach in St Barts.
The Beatles rocker was far from kicking back because he was instead spending an energetic day with his glamorous wife Nancy Shevell, 58, and stylish daughters Stella, 46, and Mary, 48.