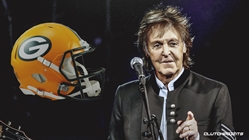 Yes, the Packers have another insanely famous name to add to their ranks. According to Kendra Meinert of the Green Bay Press Gazette, Paul McCartney is now a shareholder.
That's right, a Beatle is part of the Green Bay Packers family.
McCartney is on his "Freshen Up" tour, and playing at Lambeau Field for the first time ever. Before the concert started on Saturday, he was presented with a game ball and a stock certificate.
This doesn't really mean anything when compared to other sports teams. It's not like McCartney's going to suddenly be involved in team meetings or be making any major decisions. It simply means he's with the countless others that are part of the Packers family.
Source: Hunter Noll /clutchpoints.com