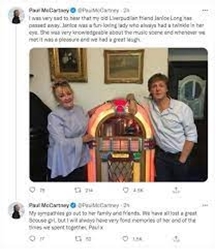 Sir Paul McCartney was left "very sad" following the death of Janice Long.
The Beatles singer has paid tribute to the veteran broadcaster - who was the first woman to regularly host 'Top of the Pops' - after she passed away at her home on Christmas Day (25.12.21) aged 66 following a short illness.
Paul took to Twitter on Friday (07.01.22) to share a photo of himself and his "old Liverpudlian friend" standing around a jukebox and wrote: "I was very sad to hear that my old Liverpudlian friend Janice Long has passed away.
"Janice was a fun-loving lady who always had a twinkle in her eye. She was very knowledgeable about the music scene and whenever we met it was a pleasure and we had a great laugh."
Source: Celebretainment/purdueexponent.org