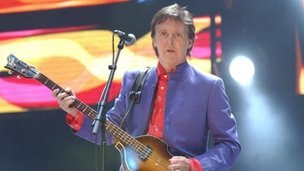 Sir Paul McCartney has announced details of a new solo album and shared a track from the record called New. He told BBC 6 Music's Matt Everitt: "It's catchy, it's summery, it's a love song. I think people will recognise it as definitely me."
The untitled album, due for release in October, will be Sir Paul's first solo album since 2007's Memory Almost Full. It will feature 12 songs, which he worked on with producers including Paul Epworth and Mark Ronson. "The record is very varied. I worked with four producers and each of them brought something different," said Sir Paul. DJ and producer Ronson is known for his work with a host of award-winning stars including the late Amy Winehouse, Lady Gaga and Lily Allen.
Listen to the Audio Version of this News Story

Read more on this story.......
Source: BBC News Entertainment and Arts