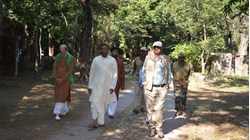 Almost two years after it was opened for the visitors, fans of English band The Beatles will get a chance to go through rare photos and documents at Rishikesh's Chaurasi Kutia where the Fab Four stayed in the '60s.
The members of the band -- Ringo Star, George Harrison, Paul McCartney and John Lennon -- visited Chaurasi Kutia ashram in February 1968 (now part of Rajaji Tiger Reserve) to learn transcendental meditation from spiritual guru Maharishi Mahesh Yogi. During their stay here for nearly two months, the Beatles penned 48 popular numbers. A few of them figured in two albums -- The White Album and Yellow Submarines.
The Beatles' India visit will complete 50 years in coming February. The Uttarakhand government intends to showcase the event in a big way, but it lacks access to material of archival value related to the Beatles' visit. Presently, visitors to the ashram get a chance to see a couple of wall paintings, done by some others.
Due to technicalities of procurement rules and lack of funds, the state government found it difficult to participate in international auctions to buy photos or other stuff associated with the band.
Source: hindustantimes.com