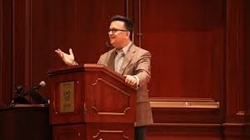 Kenneth Womack, an established historian, author and professor of English at Monmouth University, gave a presentation displaying his specialized knowledge in literature, creative writing and the fab four.
Within his hour-long presentation on Oct. 29, the author delved into the band's creation of the album.
On Oct. 15, Womack saw the release of his latest book, "Solid State: The Story of 'Abbey Road' and the End of the Beatles," which comes during the 50th anniversary of the album's release. Throughout his presentation, Womack focused on the "Abbey Road" medley, the eight-song collection found on side B of the record.
"The medley is essentially a selection of songs in a suite that concludes their career, so it has a very powerful place in their story," Womack said.
Source: tcnjsignal.net