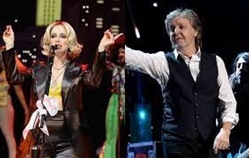 St. Vincent has recalled an impromptu phone call she received from Paul McCartney after she remixed one of his songs, describing the Beatles legend as "the loveliest man on the planet".
The artist (real name Annie Clark) told the story to James Corden on his Late Late Show last night (January 4) ahead of a live performance of her 'Daddy's Home' track '… At The Holiday Party'.
Clark recalled how she was contacted by McCartney out of the blue after she contributed a remix of his song 'Women and Wives' to last year's 'McCartney III Imagined'.
"I submitted the song, and I was all nervous to hear what would Paul think," she told Corden.
"Then I was driving across town, and I see this random +44 number [come up on her phone] from England. So I pick it up, and it's Paul McCartney… he called me, and he was the loveliest man on the planet.
Source: Sam Moore/nme.com