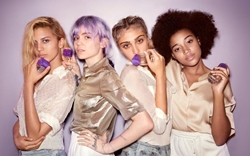 Last year, Stella McCartney launched her first millennial fragrance POP, a fresh and feminine scent that champions the notes of tuberose and sandalwood.
It was deemed more than just a fragrance, as the brand wanted to push a message across to the younger generation: 'It is about a mindset rather than an individual woman,' they declared. 'Bold. Authentic. Irreverent.'
The campaign was equally impactful with millennial stars including Madonna's daughter Lourdes Leon, the musician Grimes, animal activist Kenya Kiniski Jones, and actress and campaigner Amandla Stenberg taking centre stage. In an era where designer perfumes are declining in favour of niche fragrance houses, it was a clever move for McCartney to delve into a younger market, which amounts to over 13.8 million potential customers.
It was clearly a success though as today, McCartney is unveiling a sequel scent, POP Bluebell, from £44. The fragrance promises to be delicate yet distinctive with the British bluebell note bringing a depth and personality to the collection.
"As human beings, we're always changing, and POP is evolving with its wearers," the British designer explained. "I really love these girls – their spirit, their independence – and wanted to follow them on the next stage of their adventures. In POP Bluebell they've lived life and learnt, and become only more beautiful in the process."
By: Victoria Hall
Source: The Telegraph