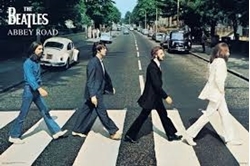 Beatles impersonators recreate the iconic "Abbey Road" photograph made 50 years ago Aug. 8 in London, where fans continue to flock to the famed zebra crossing near Abbey Road Studios. (Leon Neal / Getty Images)
We popped up from the London Underground station of St. John's Wood and noticed right away that we were in a leafier part of England's capital, outside the congested city center.
Just about a five minute walk down Grove End Road, we came around a curve and there it was: the unmistakable zebra crossing of Abbey Road.
Fifty years ago Sept. 26, the Beatles' "Abbey Road" album was released, showing, on the cover, George, Paul, Ringo and John jauntily striding across this very crosswalk in what would become one of the most iconic photos in rock 'n' roll history.
Source: John Biemer/chicagotribune.com