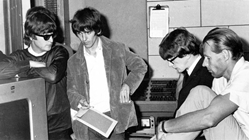 His entry into show business was a film role, playing a son of then-Hollywood megastar Claudette Colbert in a movie made near the twilight of her storied career.
For a time, he shared the top floor of his parents' home with Paul McCartney, and became a friend and trusted business associate of The Beatles.
He played a key role in shaping the careers of Rock and Roll Hall of Famers James Taylor and Linda Ronstadt, serving as manager and record producer for both. But many know Peter Asher best as one half of British Invasion-era singing duo Peter and Gordon, who recorded a string of memorable hits in the mid-1960s including "A World Without Love," "I Go To Pieces" and "Lady Godiva." At 72, Asher remains an acclaimed record producer, currently nominated for a Grammy Award for Best Musical Theater Album for "Bright Star," the original Broadway cast album of the play with an original score by Steve Martin and Edie Brickell.
He also is working with Academy and Grammy Award-winning film score composer Hans Zimmer on the recordings for two DreamWorks animated movies. With a career like this, it's not surprising Asher has a lot of great stories to tell and that's exactly what he will do when he comes to Sellersville Theater on Wednesday for "A Musical Memoir of the '60s & Beyond."
He also will sing the songs that defined his musical career with Gordon Waller, who died of a heart attack in 2009.
By: Daryl Nerl
Source: The Morning Call