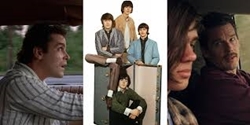 Between 1960 and 1970, the Beatles became the bestselling musical act of all time, won over millions of fans across the world, and released some of the most beautiful music ever created. They're one of the few bands who were so immensely popular that after they broke up, each member continued a wildly successful career as a solo artist.
After the Fab Four had been inducted into the Rock and Roll Hall of Fame collectively, all of them ended up being inducted separately, too. The music of the Beatles has made for some great movie moments, but the music of John Lennon, Paul McCartney, George Harrison, and Ringo Starr has also been included quite often.
10 "Wah-Wah" In American Made
In telling the story of Barry Seal, a pilot who worked for both Pablo Escobar and the U.S. government at the same time, Doug Liman was heavily influenced by the frenetic style of Martin Scorsese's Goodfellas.
This meant that the soundtrack of American Made was filled with classic pop and rock hits. George Harrison's "Wah-Wah" plays over the movie's bittersweet ending.
Source: Ben Sherlock/screenrant.com