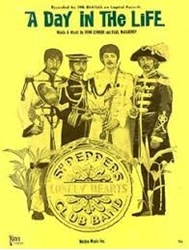 Sgt. Pepper's Lonely Hearts Club Band is often seen as the Beatles' opus — and John Lennon thought a film from the 1960s equaled it. The 1960s gave us many mainstream classics including Psycho, West Side Story, and Planet of the Apes — however, John was talking about a film which was far more bizarre. Interestingly, the movie in question was created by one of John's musical contemporaries.
John Lennon said this artist was 'too far out' to be accepted
As its title suggests, Jann S. Wenner's famous book-length interview Lennon Remembers includes John reminiscing about his past experiences. In addition, he has lots to say about the work of other artists ranging from William Shakespeare to Blood, Sweat & Tears to Marcel Duchamp. He also discusses an artist who was quite close to him — Yoko Ono. John compared Yoko's work to that of her fellow avant-garde artist, Andy Warhol.
Source: cheatsheet.com