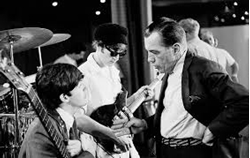 George Harrison might have been the Beatles' lead guitar participant, however that doesn't imply he took each solo you hear in Fab Four songs. From early within the band's run by the final Beatles album, you'll discover songs that featured John Lennon or Paul McCartney taking solos.
In the case of "Taxman," George's composition that kicked off Revolver, Paul took the solo when George couldn't nail down the half rapidly sufficient within the studio. On "Get Back," John realized the lead as a result of George left the group throughout the Let It Be classes.
In different instances, John merely needed to provide a solo a go. "I like playing lead sometimes, so I do it," he mentioned in 1964. After getting back from the band's first tour of America, that's what he did on 'You Can't Do That," a monitor he'd written for A Hard Day's Night. It turned his first solo on a Beatles launch.
Source: Jeremy Spirogis/sahiwal.tv