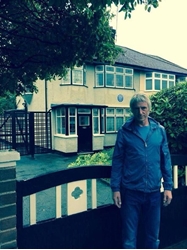 Merseyside is packed with fantastic tourist attractions and some of the biggest Hollywood stars have been drawn here for a spot of sight-seeing. A-listers including Tom Hardy , Kim Cattrall and Bob Dylan have been seen snapping selfies and exploring our cultural hot spots. Here are 10 times a celebrity was spotted on the tourist trail in Liverpool .
When the Sex and the City star was in town filming Agatha Christie thriller Witness for the Prosecution, she squeezed in a quick trip to Crosby beach to see the Iron Men. Kim regularly comes back to Merseyside - she was born in Liverpool, before her family migrated to Canada - and was enthralled by Gormley's "spectacular sculptures", tweeting a picture of herself at the Another Place installation.
The Beatles have fans all over the world - including some huge celebrity admirers. So it's no surprise that some have wanted to do the tourist thing in the Fab Four's hometown. Paul Weller was pictured outside John Lennon's childhood home Mendips in July 2014. The Modfather squeezed in the visit after a charity gig at the East Village Arts Club. Back in April 2009, singer Bob Dylan also visited Mendips when he joined one of the Beatles minibus tours of the city, sitting quietly amongst members of the public.
Paris Hilton 'meets' a Beatles legend
The American heiress visited Liverpool in May 2015 to launch her new fragrance at Superdrug. But the millionaire couldn't resist a spot of sightseeing and popped down to Mathew Street to get a selfie with the John Lennon statue.
By: Amy Browne
Source: The Liverpool Echo