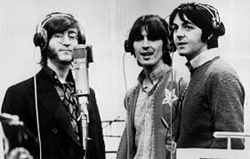 While The Beatles stayed together long enough to make The White Album, Let It Be, and Abbey Road, it doesn't mean they enjoyed it. In fact, by the beginning of that run in 1968, the Fab Four had just about had it with each other.
That became easy to see during the sessions for The White Album, which Paul McCartney had dubbed (without exaggeration) "the tension album." After all, he and John Lennon nearly fought in the studio while running through endless takes of "Ob-La-Di, Ob-La-Da."
In early '69, things hadn't improved much. If you can't tell from Paul and George Harrison arguing in the Let It Be film, the hushed-up tale of John and George's fistfight should fill in the blanks.
By the summer '69 sessions for Abbey Road, John wasn't pretending to care and sat out on Paul's goofy "Maxwell's Silver Hammer." As for George and Ringo, they braved through it but savaged Paul's song later.
Source: cheatsheet.com