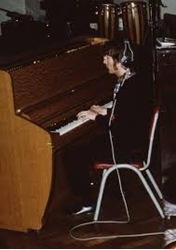 If you visit The King's home of Graceland today, just across the road from the mansion is a huge exhibit complex called Elvis Presley's Memphis. Inside the spacious halls is a display called ICONS: The Influence of Elvis Presley, which features artefacts owned by actors and musicians who have said they were impacted by The King. Of course, just like millions of other teenagers in the late 1950s, The Beatles were huge fans of Elvis and attribute his influence to their success.
John Lennon especially was a huge fan of The King growing up, famously saying: "Before Elvis, there was nothing."
And on display at the Graceland exhibit among all kinds of treasures items is a piano owned by the late Beatle.
Growing up in late 1950s Liverpool, Lennon remembers first hearing Heartbreak Hotel and watching Elvis on the big screen in Love Me Tender.
After seeing The King's debut movie in 1956, Lennon knew he wanted to do what Elvis did.
Source: George Simpson/express.co.uk