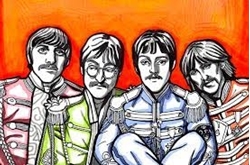 Rock and roll reunions happen often now, such as for special occasions like an award or induction into a hall of fame. Other bands do it for sentimental reasons, anniversaries of hit albums, or — let's be honest — money.
In 1974, the Beatles almost reunited in Syracuse, N.Y., and it all began with a much simpler reason: John Lennon's birthday on Oct. 9, 1971.
The Fab Four broke up in 1970 after less than a decade together crafting some of the greatest songs in music history, from "Let It Be," "In My Life" and "I Want to Hold Your Hand" to "Come Together," "Help!" and "All You Need is Love." Lennon, Paul McCartney, George Harrison and Ringo Starr drew screaming fans everywhere, influenced multiple generations of musicians, and still remain popular today through music streaming services, artists covering their tunes, documentaries (like Peter Jackson's upcoming Disney+ series "Get Back") and multiple Beatles-inspired stories (including the 2007 movie "Across the Universe," Netflix's animated kids' show "The Beat Bugs," Cirque du Soleil's "Love," and Danny Boyle's 2019 film "Yesterday").
Source: Geoff Herbert/syracuse.com