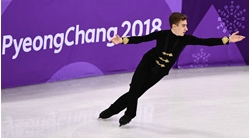 When 19-year-old Italian figure skater, Matteo Rizzo, hit the ice for his free skate, it felt like his routine could have been programmed by a classic rock station.
Rizzo used a medley of "Come Together," "Let It Be," and "Help!" written and performed by the Beatles.
Steve Winogradsky, author of "Music Publishing, The Complete Guide," said the question for figure skaters at the Olympics who want to use a particular song is pretty simple.
"Do they need to get permission? And the answer is no," he explained.
But how can that be? Licensing fees are an important part of a songwriter's income.
"It's because it's really treated as a live performance," clarified Amy E. Mitchell, an entertainment lawyer in Texas. The live performance falls under a blanket agreement broadcasters have with artists. That means NBC has permission to broadcast a piece of music from a public, commercial setting. The Olympics broadcast is considered live, even though many of the broadcasts from South Korea are on a tape-delay.
It's much different from when a production company wants to use a song on a TV show or a movie. That requires a synchronization fee. And getting a sync fee for a bunch of Beatles songs would likely cost six figures.
Source: Andy Uhler/marketplace.org